Sri Rajendran Concrete Blocks Manufactures A complete line of Hollow and Solid blocks, interlocking and designer pavers. Over 25 years of experience in the production and supply of quality concrete products affirms our steady growth in this field. We supply to the general construction and landscape industries etc.

The company has become one of the largest suppliers of concrete masonry products in South India. The appeal of Hollow & Solid blocks, Interlocking and designer pavers has continued a steady growth in the past several years, with many homeowners, developers, and municipalities turning to pavers, for their durability and appeal. To meet the demand, since 1991, the company opened a state-of the art Hollow, Solid and paver blocks plants in Chennai. The plant is located, just 5 Km away from the famous Chennai - Vandaloor Zoological Park.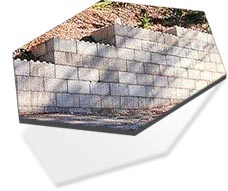 The skilled manufacturing ability combines with the company's notable reputation for service to architects, builders and masonry contractors. The company presents a complete offering of custom colors, shapes, and sizes in most of its product lines.

All our products are manufactured to standard specifications & under strict quality control.

Our product formulation adds a super-dense, top layer of cement, fine sand granules and increased pigment content to each Paving Stone preventing the natural aggregate in the concrete pavers from being revealed after prolonged wear and tear.

Sri Rajendran Concrete Blocks is the name you can rely upon for all your concrete products needs in any kind of construction services and a variety of dependable quality concrete products.